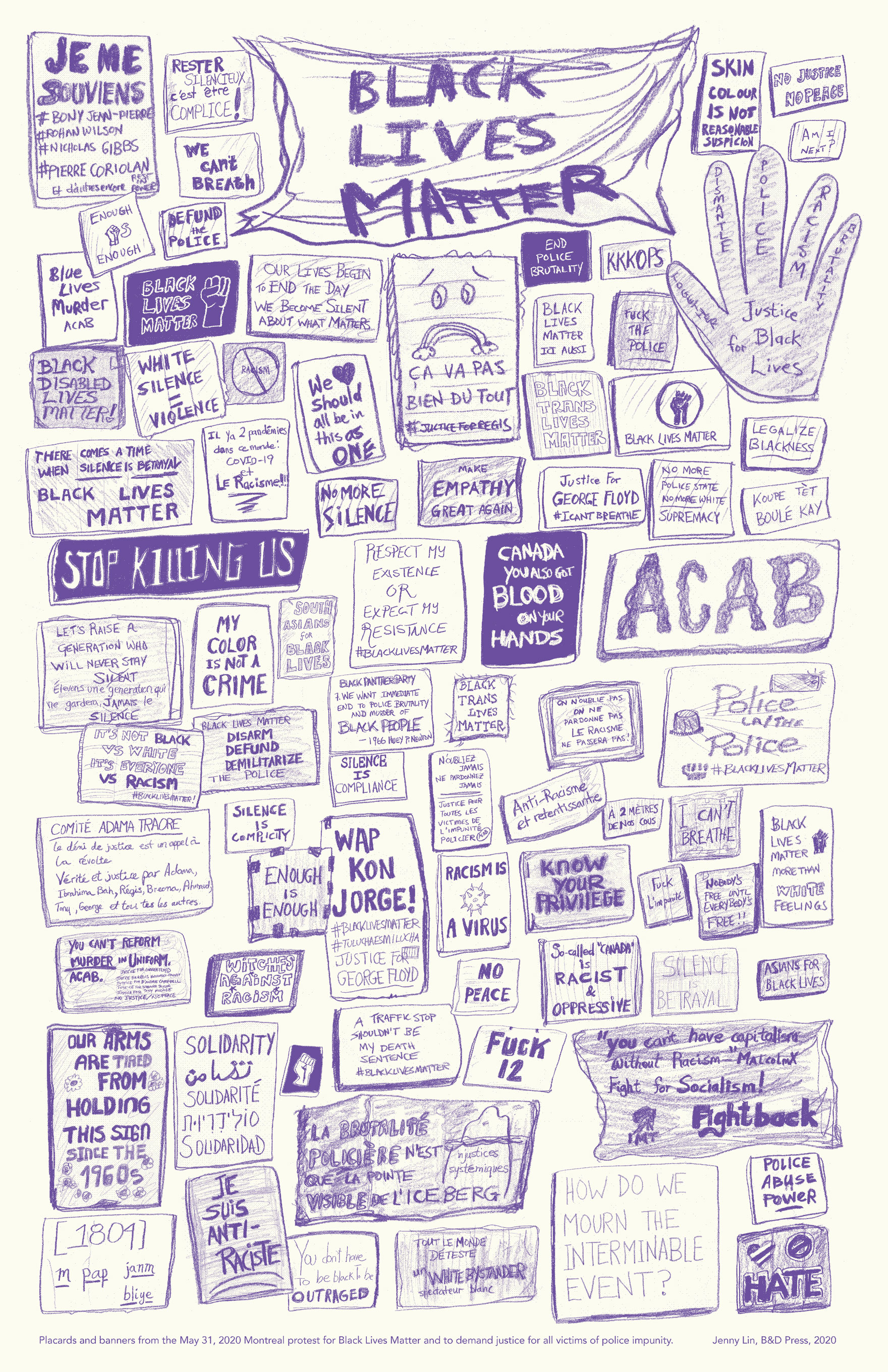 "Placards and banners from the May 31, 2020 Montreal protest for Black Lives Matter and to demand justice for all victims of police impunity"

This poster is a tribute to the immense amount of people who have been protesting steadily in the US and around the world, including this protest in Montreal, in solidarity with Black Lives Matter, in the movement against systemic racism, racial injustice and inequality, against police brutality and abuse of power. It is a tribute, as well, to the large numbers of people sharing resources, donating, thinking and acting together to affect change, including those who are not able to attend the protests physically. This is a gesture to archive the messages and sentiments, but especially a reminder to keep active in this movement, to keep true to our words, and a promise to never forget the victims and their loved ones.

Click here for a free download of a black and white version (ideal for 8.5 x 14", legal-sized paper).
Risograph print 11 x 17"
Printed by Quentin Mitchell, Vide Press (@videpress), Toronto, Canada.
$10 CDN. All proceeds from this print will go to Taking What We Need.
Sorry - poster is sold out! Thanks for all your support! :)
Taking What We Need is a group dedicated to helping low income transwomen get what they need through discretionary funding. This group is currently prioritizing Black and Indigenous trans-feminine and two-spirit folks in Tio'tia:ke - Montréal (Facebook page).
We previously raised $700 CDN from our first round of poster sales for Hoodstock. Thank you, all of you, who bought posters, shared the info, looked at, reached out or downloaded the free one!